Pertama silahkan download Sun Java for Mac OS X 10.06 Update 6 di sini[1]. Untuk instalasi tinggal di double klik file disk image, kemudian akan muncul sebuah file .pkg, file tersebut juga tinggal di double klik maka Java akan terinstall.
Selanjutnya kita install Android SDK. Download Android SDK di sini[2]. Android SDK cukup kita extract saja, misal kita extract di /Users/budiw/Downloads/android-sdk.
Setelah Android SDK terinstall, kita download terlebih dahulu image android platform. Caranya kita buka terminal/console. Kemudian kita ketik perintah-perintah dibawah ini.
$cd /Users/budiw/Downloads/android-sdk
$tools/android
Kita tinggal centang Android versi berapa yang mau diinstall. Karena game yang akan dimainkan 'katanya' jalan di Android 2.3.3, maka saya centang yang Android 2.3.3 (API 10).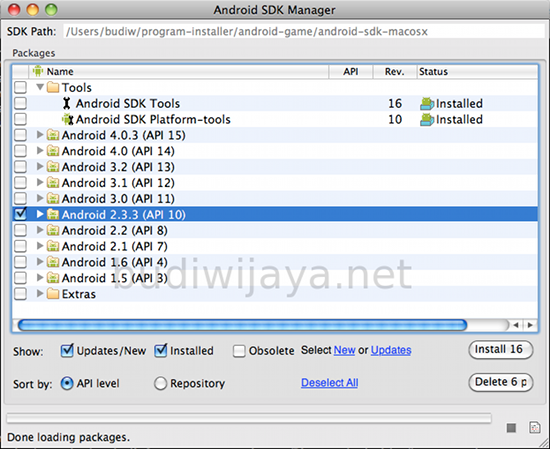 Klik "Install …"
Setelah Image Android sudah diinstall. Kita perlu membuat sebuah Emulator HP Android. Berbeda dengan versi Windows, versi OS X tidak dilengkapi program AVD Manager.exe, jadi kita harus buat manual menggunakan terminal/console. Referensi dari sini[3] dan sana[4].
Kita lihat dulu ada berapa emulator HP yg bisa kita pakai.
$tools/android list targets
Available Android targets:
----------
id: 1 or "android-10"
Name: Android 2.3.3
Type: Platform
API level: 10
Revision: 2
Skins: HVGA, QVGA, WQVGA400, WQVGA432, WVGA800 (default), WVGA854
ABIs : armeabi
----------
id: 2 or "Google Inc.:Google APIs:10"
Name: Google APIs
Type: Add-On
Vendor: Google Inc.
Revision: 2
Description: Android + Google APIs
Based on Android 2.3.3 (API level 10)
Libraries:
* com.android.future.usb.accessory (usb.jar)
API for USB Accessories
* com.google.android.maps (maps.jar)
API for Google Maps
Skins: WVGA854, WQVGA400, HVGA, WQVGA432, WVGA800 (default), QVGA
ABIs : armeabi
Baru kemudian kita buat AVD (Android Virtual Device).
$tools/android create avd -n hpgames -t 1 -p /Users/budiw/Downloads/hpgames
Auto-selecting single ABI armeabi
Android 2.3.3 is a basic Android platform.
Do you wish to create a custom hardware profile [no]
Created AVD 'cobahp' based on Android 2.3.3, ARM (armeabi) processor,
with the following hardware config:
hw.lcd.density=240
vm.heapSize=24
hw.ramSize=256
Setelah jadi, kita jalankan dengan perintah emulator.
$tools/emulator -avd hpgames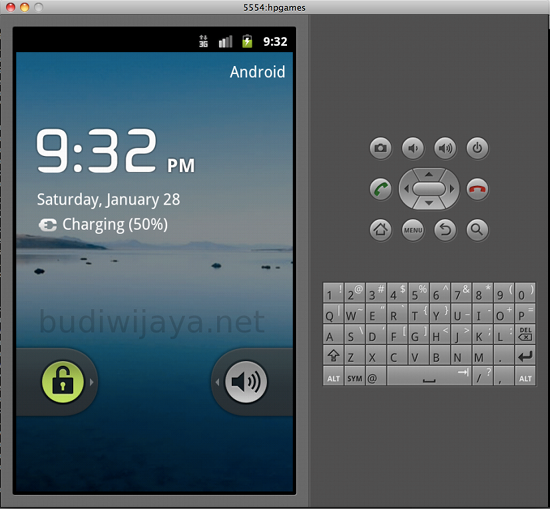 Setelah emulator sudah jalan, baru kita install game yang diinginkan. Kita lihat dulu nama devices-nya.
$platform-tools/adb devices
List of devices attached
emulator-5554	device
$platform-tools/adb -s emulator-5554 install namafile.apk
1246 KB/s (4213460 bytes in 3.300s)
pkg: /data/local/tmp/namafile.apk
Success
Kemudian bisa kita lihat di menu sudah terinstall game tersebut.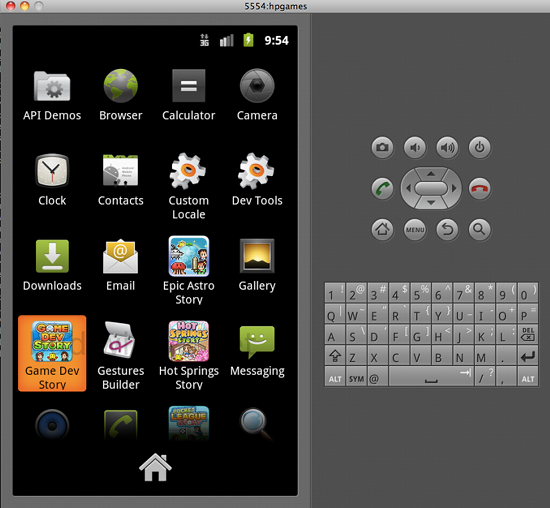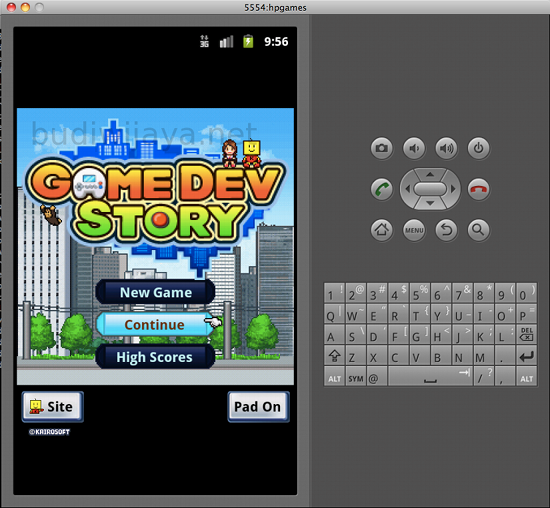 Selamat, siapkan waktu dan tenaga untuk kecanduan.
[1]http://support.apple.com/kb/DL1360
[2]http://developer.android.com/sdk/index.html
[3]http://developer.android.com/guide/developing/devices/managing-avds-cmdline.html
[4]http://developer.android.com/guide/developing/tools/android.html
cara main game android di mac
,
cara main game java di android
,
cara instal android di macbook
,
main game android di mac
,
cara memainkan game java di android
,
cara main game android di macbook
,
main hp Java di android
,
install android di mac
,
cara buka file android di mac
,
maen game android di mac